Sandra A. Daugherty, MD, PhD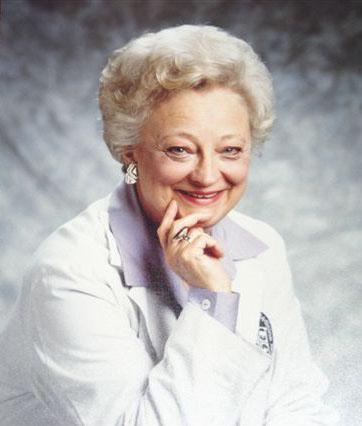 Dr. Sandra Daugherty spent her medical career as a clinical researcher and epidemiologist, earning a national reputation for her work in hypertension, chronic fatigue syndrome and women's health issues.   She was also a teacher and mentor, often publishing with medical students and faculty colleagues who collaborated on her studies.
Dr. Daugherty is an alumna of the University of Kansas, where she earned her undergraduate degree in Music and Literature in 1956 and her medical degree in 1960. 
As an undergraduate, she sang in the KU chorale and performed in several opera productions on campus.  The excitement and satisfaction she received from singing was highlighted during the annual campus visit by Robert Shaw, then the premiere choir director in the US, who came to visit his dear friend, KU Chorale director Clayton Kreibel, and to direct the chorale. 
Dr. Daugherty also sang in the chorale as freshman medical student, the only medical student who had ever done so.  During her second year of medical school, she entered the regional Metropolitan Opera auditions; although she performed admirably, she did not win.  This influenced her choice of medicine as a full-time career; however, she never stopped singing and volunteered with her church choirs for more than 30 years.
After graduating from medical school – where she was one of four women in her class – Dr. Daugherty began her medical career as a Student and Employee Health Service physician at the University of Oklahoma Health Sciences Center.  She earned her PhD in Public Health and took a residency in Public Health and Preventive Medicine at the University of Oklahoma.  Her academic career took her from Oklahoma to Michigan State to Wyoming to Indiana and, finally, to the University of Nevada School of Medicine.  In Nevada, she was on the faculty for 19 years and was the first woman to earn the rank of professor at the medical school.
During her career, Dr. Daugherty was the recipient of more than $20 million in peer-reviewed funding from the National Institutes of Health (NIH).  She was responsible for securing the largest (at that time) grant ever awarded to Nevada's university system:  $8.5 million for the Women's Health Initiative (WHI) study.  Begun by NIH in 1993, the WHI was a national, 12-year study to examine risk factors in heart disease, breast cancer and osteoporosis in 160,000 older women.
While on the faculty at Michigan State, Dr. Daugherty was the first woman in the country to be the principal investigator of an NIH clinical trial.  She worked from 1971 to 1976 on the Hypertension Detection and Follow-up Program (HDFP), a national study that led to the awareness that physicians need to actively treat high blood pressure.  Her successful work on this project earned her and her Principal Investigator (PI) colleagues a prestigious special public health award from the Lasker Foundation in 1980. 
Dr. Daugherty's scientific investigations led her in many directions.  She investigated the effects of various treatments on the reduction of death among patients with high blood pressure and other forms of heart disease; she studied mercury levels in Dayton, NV, and evaluated the effects on residents' health status; and she conducted an epidemiological study of the outbreak of chronic fatigue syndrome at Lake Tahoe, concluding that CFS is, in fact, a disease and not a psychological malady.
Dr. Daugherty spent many years working with the National Heart, Lung and Blood Institute and the American Heart Association on a variety of review committees, study sections and conference planning committees.  She was one of the first women to assume a leadership role with the AHA, where she served on the Executive Committee and as chair of the Council on Epidemiology.
Dr. Daugherty was a music and literature major at the University of Kansas before she entered medical school.  She was a gifted singer and seamstress and collected art during her travels throughout the United States and in Europe.
Her first love was her husband and their three children.  Dr. Bob Daugherty was dean of the University of Nevada School of Medicine from 1981 to 1999 and was Vice President of Health Sciences and Dean of the College of Medicine at the University of South Florida from 2001 – 2003.   Son, Bob, and his wife, Kim Bradshaw Daugherty, live in Reno and have two children, Robbie and Kyle.  Daughter, Allison, and her husband, Doug Smithson, live in Reno and have two children, Russell and Michelle.   Son, Christopher, and his wife, Karen, live in Chicago and have four children, Justin, Jacob, Jessica and Julianna.
Dr. Daugherty died on May 31, 2000.  The Sandra A. Daugherty Foundation was created in 2001 by her husband as a tribute to her research skills, her joy at mentoring young faculty and medical students, and her humanism as a physician.